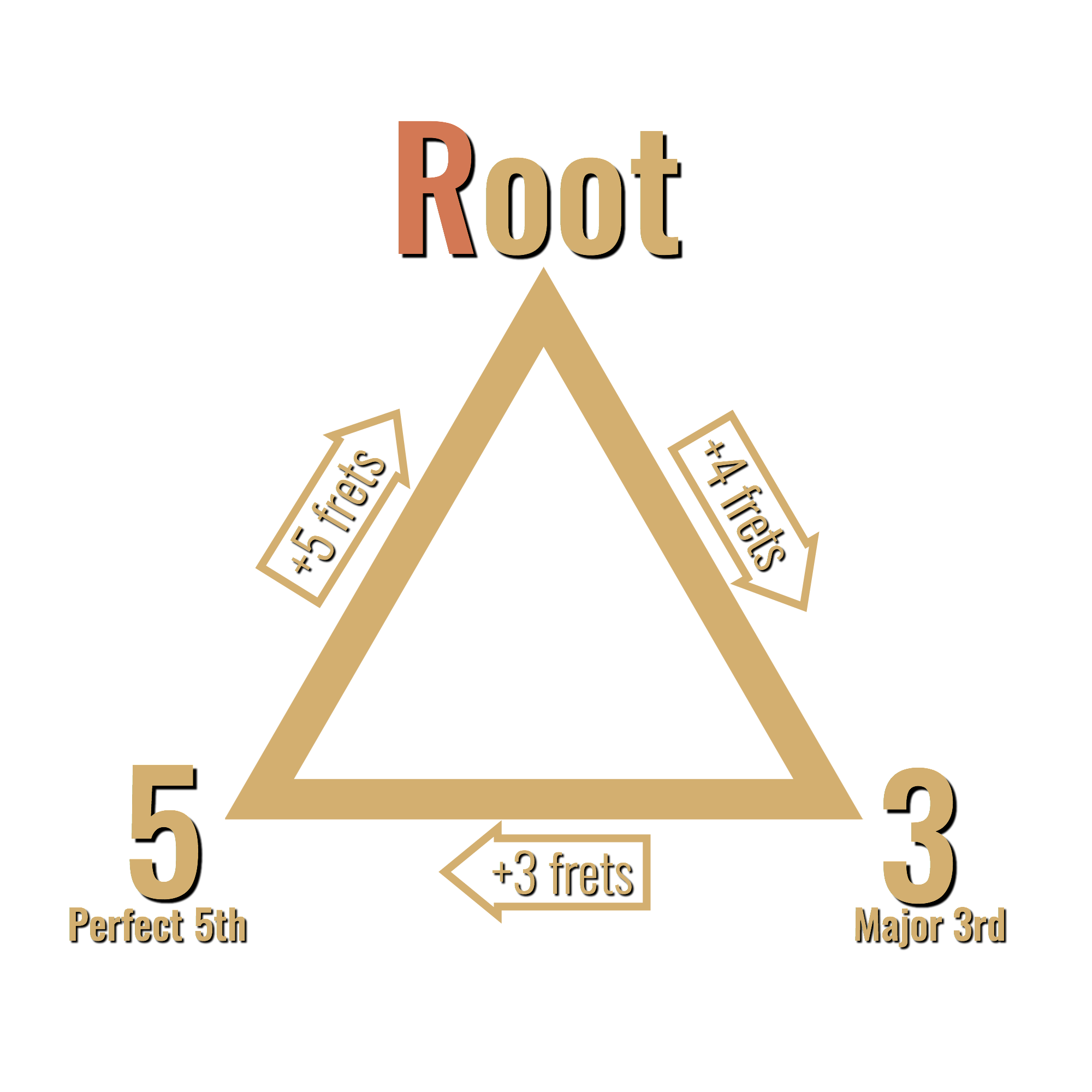 TRIADS ARE CHORDS
You might not have realized, but triads are probably one of the first things you ever learned on guitar:

E chord - it's a triad
Am chord - yep, triad

D7 chord - you guessed it…triad

C chord - not one, but three triads glued together!
They're the bare bones of harmony, the three elements combined to make what we call 'chords'
They are seen and used in countless songs across vastly different genres: rock, pop, funk, folk, reggae, ska (even metal!), which makes them essential learning.
There are literally hundreds of ways to play any chord if you understand how chords are built and how you move them around the neck.
Not only will the study of triads revolutionize your rhythm playing, but it will also ensure you hit the right notes every time in your lead solos.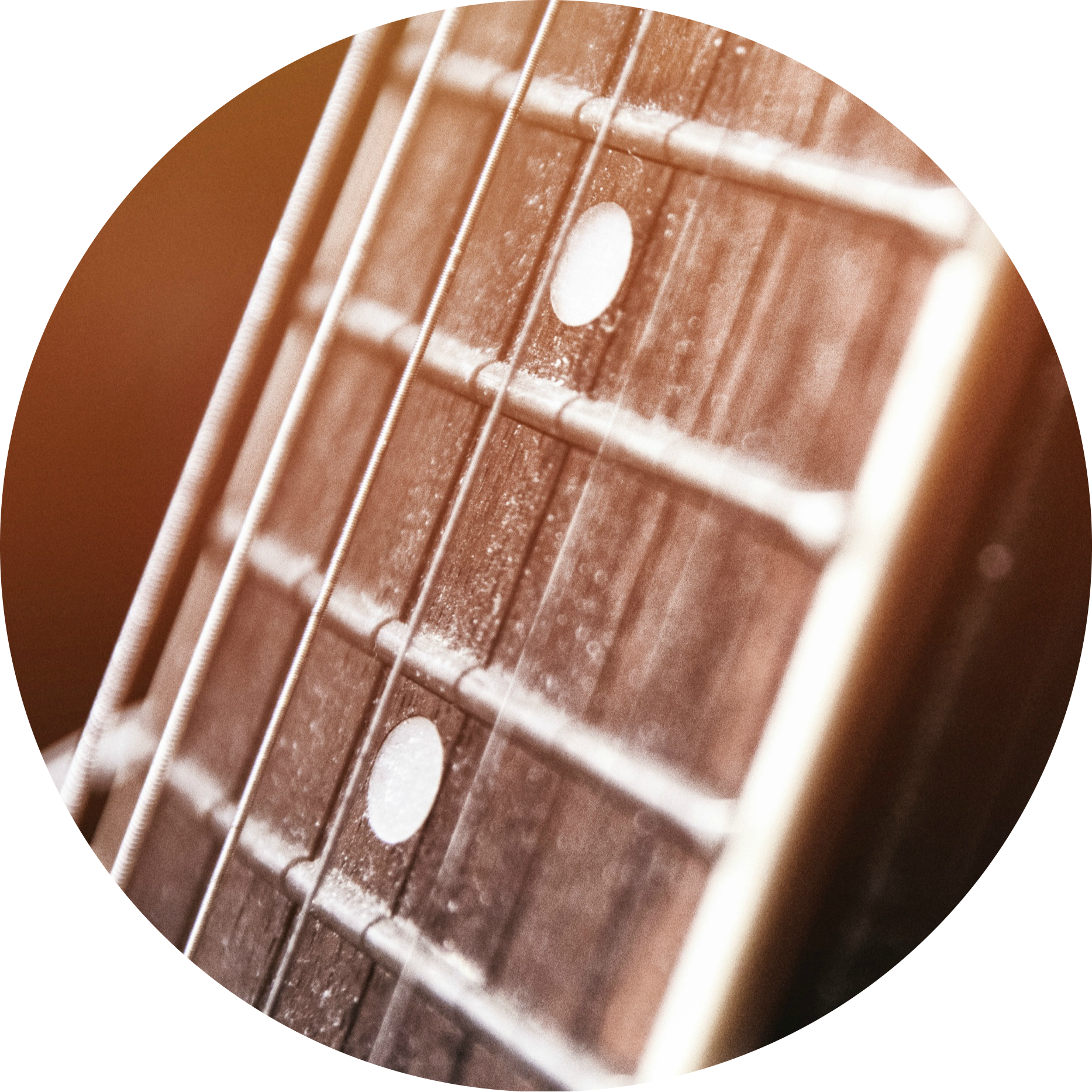 "I'm at a senior age (try 70!) and I have been learning guitar for about 15 months now, practicing for about 2 hours per day.
I have tried many different online courses over that time and honestly, it can be a bit hit-and-miss with them.
However, Ry's 'Triads Inside Out' course is one of the best-produced and most useful that I've found."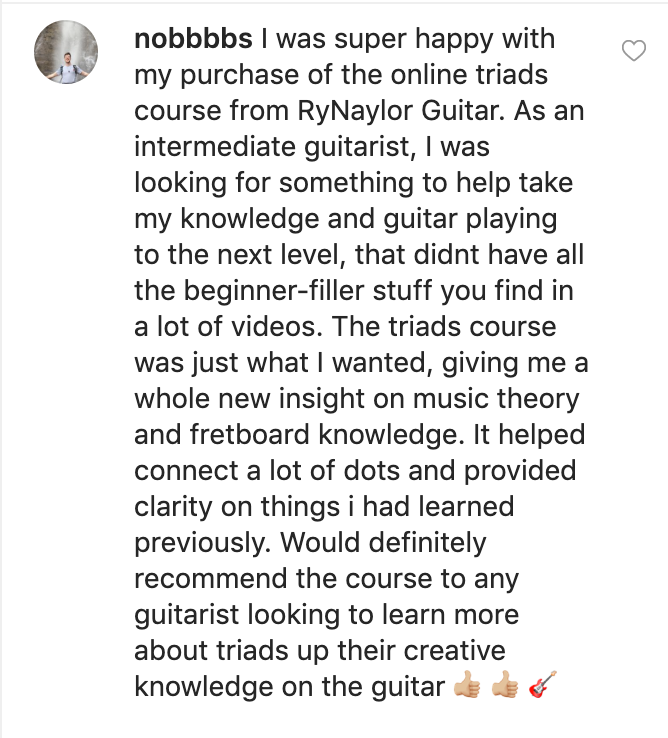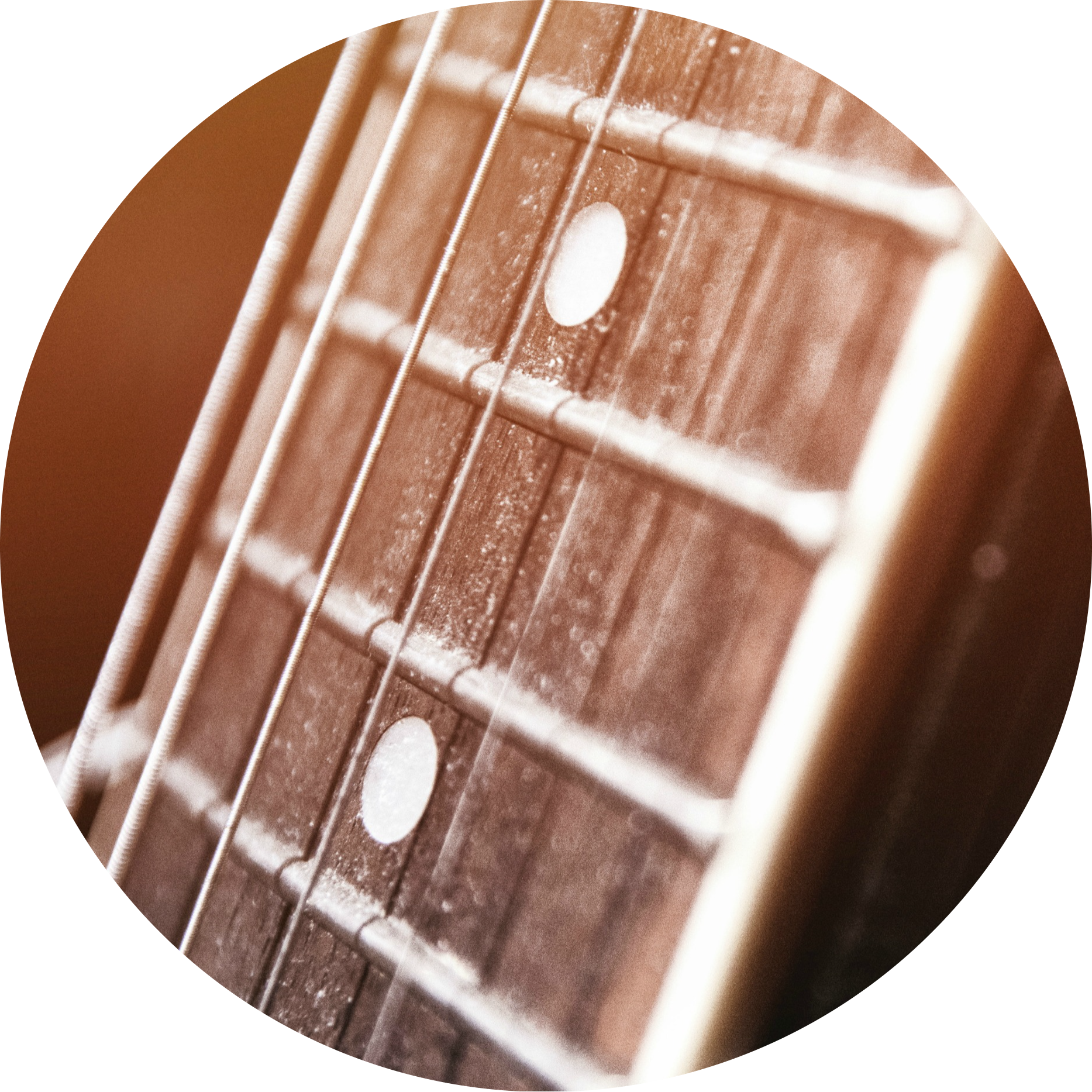 "Both Ry's courses provide you with an understandable and pleasant overview of the foundations of music theory applied to the Guitar's fretboard.
In my opinion, Ry completely succeeds in one of the hardest tasks of teaching: making complexity something simple and enjoyable. "



We will cover
The theory of the triad
Major, minor, diminished, and augmented triad shapes
What inversions are and how you play them
ALL possible closed-voicing triads
Playing chord progressions and creating second guitar parts anywhere on the neck
Applying octave shapes to closed voicing triads to literally 'spread' the notes out for open vioicing triads
Sus chord grips
Using triads as substitutions for seventh chords
Combining triads with different bass notes for creating more colourful chords
Other great sounds derived from triad shapes, namely thirds, sixths, and tenths
Triad application for lead playing - arpeggios and chord tone soloing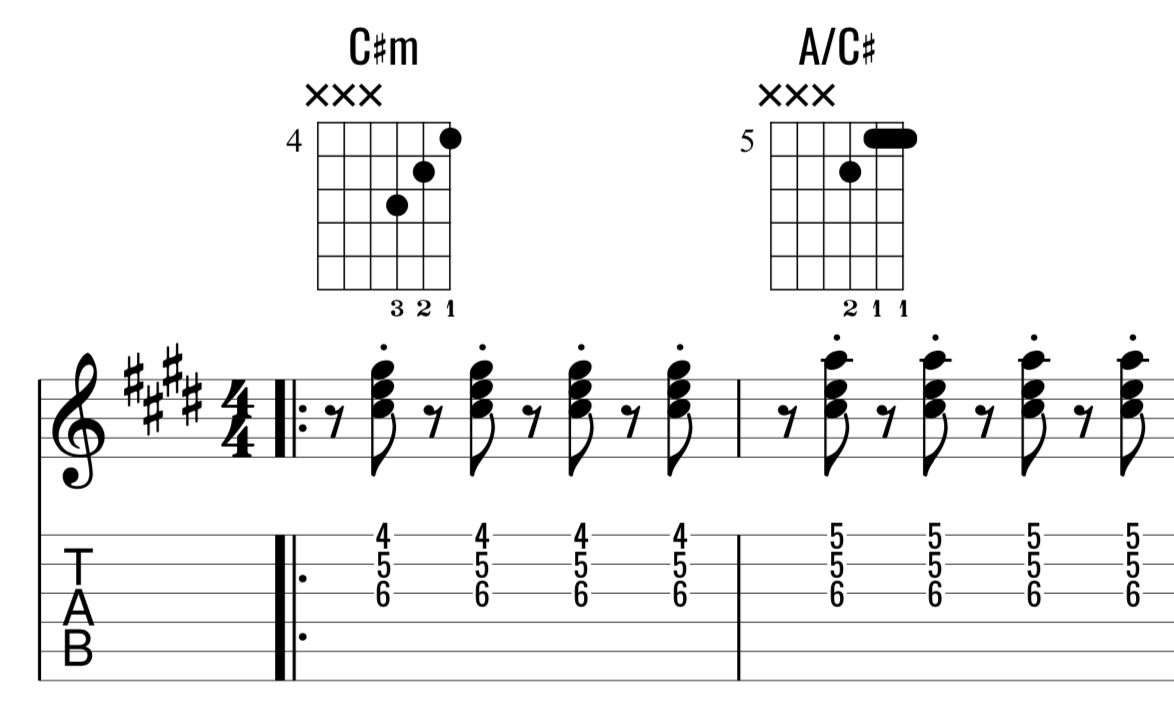 To help you learn...

Detailed breakdowns of the concepts with explanatory notes and PDF tabs
Exercises at every stage to add to your practice schedule to master the concepts taught
8 Triad Studies written specifically for the course to show you how to be creative and inplement your new knowledge

Who is this course designed for?

The student in mind when I created this course is an intermediate player with a solid grounding in the fundamentals of guitar music theory.
They will have learned all common open chords and barre chord grips (rooted on string 6(E) and string 5(A)) but are longing to not be restricted in their playing.
They want to be able to navigate the fretboard and play through any progression in any style anywhere on the neck.
FAQs

Can I download the videos?
The course videos can be streamed in web browsers or using the Teachable iOS app. The teaching content (pdfs) are downloadable, but not the videos (to protect them from being posted anywhere else).
How long do I have access to the course?
Forever! Sign up for 'Triads: Inside Out' once and you'll have lifetime access to the course materials, which will be continuously reviewed and updated.
How will I access the course?
You get instant access to the ENTIRE course once you sign up.

What format is the course content delivered in?
The course is predominantly video, with accompanying PDF tab handouts containing the content of each video lesson.

Do you offer any refunds or guarantees?
If you are in any way unsatisfied with your purchase, let me know in the first 30 days and I will give you a full refund. 30 days?! Yep. I'm that confident that you're going to love what I have to share with you!

Before you start...
Ideally student will have read my 'Fretboard Mastery' eBook and completed my introductory theory course 
'
Guitar Rut Busters: Essential Theory
'.
Theoretical concept will be reviewed in this course but, at the very least, the student is expected to know the following:

The naming of notes (musical alphabet/sharps/flats)
Fretboard Octave Shapes
Major Scale Formula
Key Signatures / Circle of Fifths
Chords in a Major Key
Natural Minor Scale Formula
Chords in a Minor Key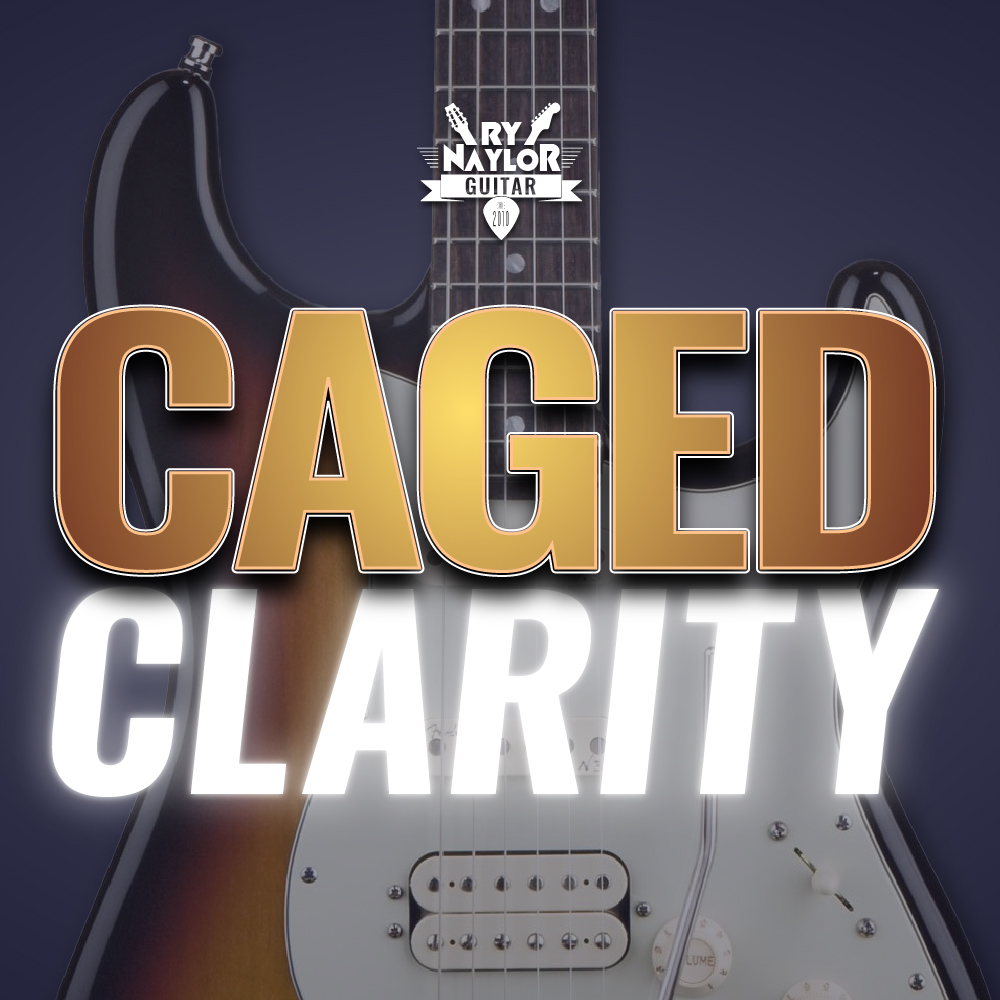 CAGED Clarity eBook
Next-level fretboard mastery to help you connect the dots and finally 'see' the guitar using the CAGED system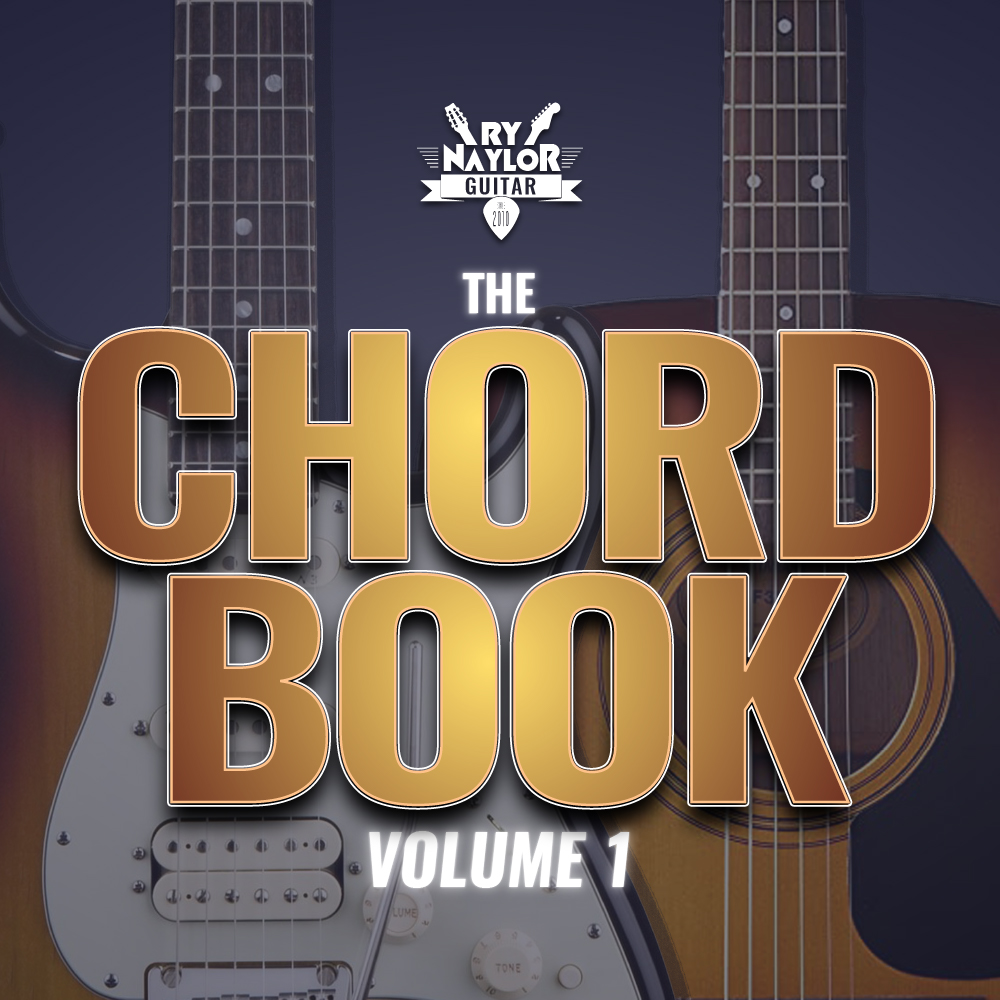 The Chord Book: Volume 1

The ultimate chord theory reference guide for players looking to drastically improve their chord knowledge and the underlying theory of what they are playing and why it works